Charleston SC | 7 Reasons You'll Love Living Here
Charleston, South Carolina, is more than just a city—it's a tapestry of history, culture, and Southern charm. Plus, it's a beautiful and romantic city with a magnificent waterfront! If you're contemplating purchasing a home, here are compelling reasons why Charleston should be at the top of your list.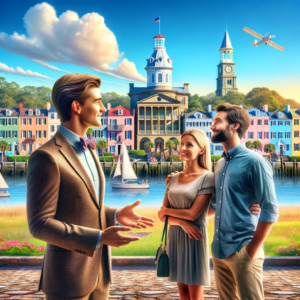 Charleston Has a Rich History and Culture
Charleston is a city steeped in history. From cobblestone streets to antebellum architecture, the city is a living museum. The Historic District offers a glimpse into the past, with well-preserved buildings and numerous historical sites. Additionally, the city's commitment to preserving its past means that new homeowners are often becoming stewards of a piece of American history.
Charleston Has an Exceptional Culinary Scene
Food lovers rejoice! Charleston is renowned for its vibrant culinary scene. From traditional Southern comfort food to innovative fusion cuisine, the city caters to all tastes. The local seafood is a must-try, with shrimp and grits being a classic Charleston dish. Additionally, the city hosts various food festivals throughout the year, celebrating everything from local produce to fine wines.
Charleston Enjoys Natural Beauty and Many Outdoor Activities
Charleston is surrounded by natural beauty, from beaches to gardens. The city's proximity to the ocean means that beach days are a regular part of life here. Furthermore, the mild climate allows for year-round outdoor activities, including golf, boating, and fishing. The nearby Francis Marion National Forest and numerous city parks offer opportunities for hiking, bird watching, and immersing in nature.
Charleston Has a Thriving Economy and Job Opportunities
Charleston has a robust economy with growing job opportunities, especially in the technology, aerospace, and automotive sectors. The city's port is one of the busiest in the country, contributing significantly to the local economy. Additionally, the presence of several colleges and universities fuels innovation and provides a steady stream of young talent.
Charleston Has a Friendly Community and Lifestyle
Southern hospitality is alive and well in Charleston. The city is known for its friendly and welcoming community. There's a strong sense of camaraderie and a slower pace of life that emphasizes quality over quantity. The city also boasts a rich arts scene, with numerous galleries, theaters, and live music venues, ensuring that there's always something to see or do.
Charleston Has an Excellent Education System
For those with families, Charleston offers a solid education system, with a mix of public and private schools. The city also has several higher education institutions, providing ample educational opportunities for residents of all ages.
Charleston Offers Diverse Real Estate Options
Whether you're looking for a historic downtown residence, a beachfront property, or a suburban family home, Charleston's real estate market offers a diverse range of options. The city's blend of old-world charm and modern amenities means you can find a home that fits your lifestyle and preferences.
Buying a home in Charleston, South Carolina, offers more than just a new living space; it's an opportunity to become part of a vibrant, historic, and welcoming community. With its unique blend of culture, history, nature, and modernity, Charleston is not just a place to live—it's a place to thrive. Whether you're a history buff, a foodie, an outdoor enthusiast, or someone seeking a great community and lifestyle, Charleston has something to offer everyone.
Ready to Find Your Dream Home? Don't Miss Out!
Navigating the real estate market can be a challenge, but you're not alone. As your dedicated real estate agent, I am here to guide you through every step of the process. Whether you're buying your first home, looking for a luxurious property, or planning to sell, I provide personalized services to meet your unique needs.
Why Choose Me?
– Expert Knowledge: Benefit from my in-depth understanding and 40 years of experience in the local market.
– Personalized Attention: Your goals are my top priority, and I'm committed to achieving them.
– Seamless Experience: Enjoy a stress-free journey from property searches to closing deals.
Take the First Step Today!
Don't let your perfect property slip through your fingers. Call me at 843-330-2500 for a consultation. Start turning your real estate dreams into reality with me by your side. Your key to a new home is just a phone call away!